SEAX Global, a leading player and disruptor in the telecommunications industry, is thrilled to announce its bronze partnership in the highly anticipated Bali Annual Telecom International Conference (BATIC 2023). This partnership marks an exciting collaboration between SEAX Global and one of the most prestigious events in the telecommunications calendar.
BATIC 2023 is set to be a dynamic gathering of industry leaders, innovators, and experts, providing a platform for meaningful discussions, knowledge sharing, and networking opportunities.
"In support of our Indonesian and global partners We are excited to be a bronze partner for this year's BATIC, taking this key regional event to better understand our regional partners while we look forward to engaging future potential partners as well" said Louis Teng, group CEO of SEAX Global.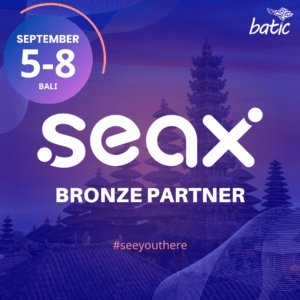 As a bronze partner, SEAX Global will actively contribute to the success of BATIC 2023 through its participation in the event's interactive networking sessions. Attendees can look forward to exploring our seamless solutions for their wholesale connectivity needs, leveraging our geopolitical neutrality in creating fully customizable options and services that are designed for the long run.
This year's Bali Annual Telecom International Conference is slated to take place from 5-8 September at the Bali International Convention Center, Bali. SEAX Global invites all participants to engage with its team, and discover the exciting opportunities that lie ahead in the world of telecommunications.
About SEAX Global: We are a forward-thinking telecommunications company dedicated to providing innovative solutions that empower connectivity and drive digital transformation. With a strong commitment to excellence, SEAX Global is a trusted partner for businesses seeking to navigate the ever-evolving landscape of telecommunications.